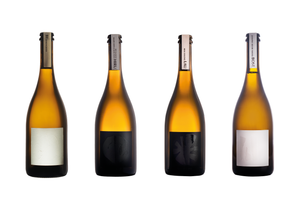 This tasting bundle includes 4 of the core Ama range, with the bonus of free shipping!
Ama pét-nat tea is a new, lightly sparkling drink that's low in alcohol but full of flavour, the result of fermenting carefully selected varieties of tea and herbal infusions.
This case of 4 bottles includes the following references:

BI - Lemongrass, Amba Estate, Uva Highlands, Sri Lanka. 1.5%
HIRU - Malawi Steamed Green & Malawi White Peony, Satemwa Tea Estate, Malawi. 2.5%

LAU - Golden Lily Milk Oolong, Taitung, Taiwan. 2%
BOST - Jasmine Silver Needle, Fuding, Fujian, China. 1.5%
If you're ordering from Spain, you can order through our online store!
Outside Spain? We're currently adapting our online store to comply with European legislation regarding the intercountry sale of low-alcohol products, and so our Amas are currently unavailable at this moment in time directly from us. However, we hope to be back up and running soon
If you can't wait to try our Amas, you can make a purchase through one of our distributors!
 Please ensure that the free shipping option is selected on the checkout page