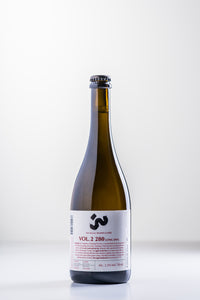 Ama pét-nat tea is a fine-aged low-alcohol drink made with water from the Izarraitz Massif in the Basque Country and carefully selected varieties of tea and herbal infusions. Elusive Cuvée Vol. 2 boasts delicate notes of green vegetals and a subtle touch of hazelnut.
Tea: Long Jing Green Tea, Hangzhou, Zhejiang Province.
Tasting notes:  Delicate notes of green vegetals and a subtle touch of hazelnut. Fine bubbles with a pale yellow-green colour.
Origin: This unique Long Jing is hand-picked before the first spring rains arrive, resulting in the fresh and succulent green tea used to craft this rare cuvée pét-nat tea. 
Water From the Alzola spring, Izarraitz Massif, in the Basque Country.
Elaboration: Once in contact with cultures of bacteria and yeast, the infusions, prepared using spring water, begin to ferment. Both precision and balance are fundamental in the transformation of the kombucha. These factors, together with the continued evolution and ageing in the bottle, are what allow Ama to become its own distinctive self.
Ageing: This elusive Ama pét-nat tea cuvée is aged in the bottle for at least two years. It will continue to improve over time.
Master brewers: Dani Lasa and Ramon Perisé.
Pairings:  Versatile and adaptable. Ideal for accompanying oily fish, oysters, clams and other shellfish.
When to drink: Ideal both as an aperitif or by the bottle to accompany austere, delicate types of cuisine.
Serve Preferably at 9-11ºC/48–52°F in a white wine glass. Handle and open carefully to preserve the bubbles. The sediment (the small particles of lees resulting from fermentation) present in each bottle can be served or kept in the bottle.
Storage Store in a cool, dry place.
Alcohol content 2.5%.
Size 750 ml.
Production: Limited cuvée of just 280 bottles total, bottle-aged for at least two years.
If you're ordering from Spain, you can order through our online store!
Outside Spain? We're currently adapting our online store to comply with European legislation regarding the intercountry sale of low-alcohol products, and so our Amas are currently unavailable at this moment in time directly from us. However, we hope to be back up and running soon
If you can't wait to try our Amas, you can make a purchase through one of our distributors!